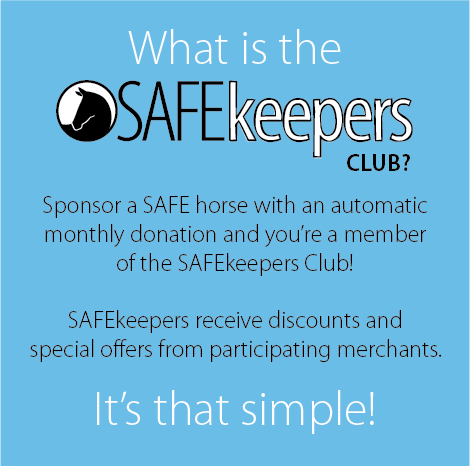 Helping horses is its own reward…but the SAFEkeepers Club takes that a step farther. If you make an automatic monthly donation to sponsor a SAFE horse, you're automatically enrolled in the SAFEkeepers Club. Your Club Card will get your discounts and special offers from local businesses who are pitching in to help us say thank you. And new merchants are being added all the time!
Set up your monthly sponsorship any way you like! Use the secure form to your right to set up an automatic credit card donation, or save us the credit card fees by using your bank's bill payer feature to automatically mail in a check. We have SAFEkeepers who use services like PopMoney to make their donation, and others who make recurring gifts through their employer's workplace giving programs. We'll mail you your Club Card so you can start reaping the rewards of being a SAFEkeeper!


Disclaimer: SAFE horse sponsorship is symbolic. Every horse at SAFE receives full and excellent care, regardless of whether or not they have enough sponsors to pay their way. Sponsorship is a great way to help SAFE by providing a sustainable flow of donations to pay for our herd's needs. Make a SAFE horse "yours" with a SAFEkeepers sponsorship today!